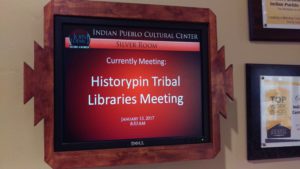 Following on our November workshops, which began to explore ways in which organizations like Historypin could support rural tribal libraries to hold digital community memory events, we held our first of two deep dives with tribal communities. In January, we spent several days in New Mexico with tribal librarians from Laguna Public Library, Santa Clara Pueblo Community Library, Santo Domingo Public Library, Jemez Community Library and Mescalero Community Library, as well as representatives from the New Mexico State Library's Tribal Library Program and the New Mexico Department of Cultural Affairs. We held the meeting at the Indian Pueblo Cultural Center in Albuquerque, and the workshop was chaired by Jennifer Himmelreich of the Peabody Essex Museum.
Our initial intent of the deep dive research was to gain a better understanding of how these communities planned and executed projects, particularly digital ones if they had tackled them. We learned a lot about just how much rural libraries accomplish with very small budgets, owing to the creativity, ingenuity and hard work of the librarians that lead them. We also noted that these rural librarians often found themselves as a bridge in their community in regards to digital initiatives, with tribal and elder councils on one hand and the youth in their community on the other. This is not to suggest that there is a divide necessarily, but that there are very different use cases for technology by the different stakeholders in their community. While resources of both time and money are always a challenge, this position of the libraries is seen as an opportunity for learning and teaching. All of the libraries weave language learning into components of their programming, and also have youth leadership development built in as well.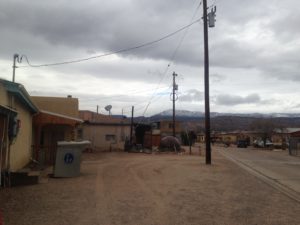 We all participated in a human-centered design workshop in which the librarians mapped out in detail the processes they have used to design and implement programs in their libraries. This gave us key insights into areas where there were barriers to success and how the libraries have historically overcome them.
The participating librarians were at very different phases of their careers and with differing degrees of formal librarian training, but almost all of them had entered and progressed through the library system. Many of them are playing an active role in representing tribal librarianship in national and international library associations and conferences while also advocating for libraries within their tribal communities and state and national government.
As we contemplated the role of Historypin in the digital landscape of these communities, the question was turned around to better serve the communities themselves, when one librarian laid down the bottom line about any digital project: How does it help my community? Our research has begun to be reframed around the question: How can tribal libraries help map community values to digital strategy?
This research was funded in part by a grant from the Institute of Museum and Library Services and the John S. and James L. Knight Foundation.