We're excited to announce that Historypin has teamed up with the Santa Ana Public Library to launch the Memories of Migration project, with support from the Institute for Museum and Library Services through the award of a $495,000 National Leadership Grant.
The three year project will be led by the Santa Ana Public Library and provide innovative programs for teens to focus on community memory and the many diverse stories of human migration over time.  The project builds on their successful Teen Historian program, which combines web and new media training with storytelling.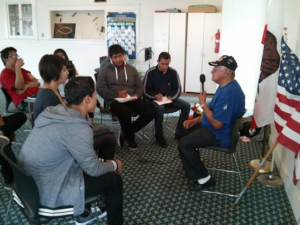 Memories of Migration compliments and celebrates the vital role that libraries play in the lives of new immigrant families and will serve public libraries with meaningful programs and enrichment activities that meet the following goals:
provide new immigrant communities a participatory voice in library collections and events
increase digital literacy and provide learning in Science, Technology, Engineering & Math (STEM) to new immigrant teens and young adults through digital training in new media and digitization technologies
strengthen libraries as anchors of intergenerational and intercultural dialogue on both a local and national level.
Techniques developed by the Santa Ana Public Library will be tested and enhanced in model programs operated by four partner libraries and agencies that serve new immigrant communities across the country.  Queens Library (Queens, NY), West Hartford Public Library, (West Hartford, CT), the State of New Mexico Department of Cultural Affairs and New Mexico Highlands University (Las Vegas, NM) have also developed innovative youth engagement and public memory projects and will join our team to develop and expand the program, addressing the needs of their diverse communities in a mixture of urban, suburban and rural settings.
An additional partner in the progam, Project GADO, will provide teens training in the use of scanning robots that will facilitate the digitization of the histories, while another, Orange County Reforma, will organize a local conference on Latino history to kick off the information collection process.
The Memories of Migration public launch is scheduled for the summer of 2015.  For further information about the project, please contact Jon Voss, Strategic Partnership Director at Historypin, or Cheryl Eberly, Principal Librarian, Young Adult Services at Santa Ana Public Library.