This is a guest post by Megan Sheehy, Curator of Public Programs for the Yarra Ranges Regional Museum, who we've partnered with to create the Changing Places project. We're looking forward to seeing their map come to life over the course of this exhibit, and you can visit the project to contribute your own photos and memories today.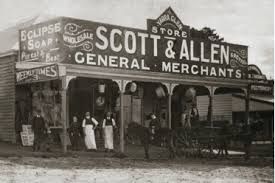 The Changing Places project explores how the main streets and shopping precincts of Yarra Ranges have changed over the past 150 years. From the first general stores in tiny townships, to the development of large scale, drive-in shopping malls.
Situated to the north-east of Melbourne, Australia, Yarra Ranges is a local government area covering almost 2500 square kilometres. The region has over 55 distinct townships and no central service district.
In 2013 Yarra Ranges Regional Museum began researching how and why the main streets and shopping precincts of Yarra Ranges have changed, and what they may look like in the future. In addition to an exhibition and education resource, this online component of the Changing Places project is designed to enable the community to continue to gather and share photographs and stories related to the unique shops and main streets of this region.
The Changing Places: The Evolution of Yarra Ranges' Main Streets exhibition was developed through an outreach project known as the Pop-Up Museum: Main Street Project. Fourteen townships across the region were visited from June to September 2013 to gather artefacts and stories from the community for consideration for the exhibition. The stories presented show the rapid growth and changes to Yarra Ranges' main streets from the gold rush era, to the arrival of the railway and the expansion of tourism.
Yarra Ranges Mayor Jim Child said the exhibition had a strong community voice and demonstrated our unique cultural identity.
"Changing Places brings together 150 years of local stories, photographs and objects to explore our region's history and heritage," Cr Child said.
"Shop owners, residents and history groups have all contributed their narratives and memories helping shape this magnificent exhibition."
Changing Places: The Evolution of Yarra Ranges Main Streets will show at Yarra Ranges Regional Museum, 35-37 Castella St, Lilydale. The exhibition opens on Saturday 9 November 2013 and runs to Sunday 2 March 2014.