We love to hear fun stories about the ways users collect content for our projects, and this week we are pleased to introduce a guest post by Bay Area local Michael Rettie, a Year of the Bay contributor. Michael is from Alameda, right on the San Francisco Bay, and here shares the stories behind his wonderful photo finds.
The collective basements and attics of the Bay Area should be declared the Official Annex of the California Historical Society. What a great idea to smoke all these treasures out into public view with the recent Year of the Bay exhibit. In my case it doesn't take too much smoke, as I'm always ready to corner a potential viewer.
Being cursed with an inability to pass up any garage sale or used book store, with a large basement and a very tolerant wife I now find myself in possession of thousands of old photographs and nearly as many stories to go with them.
Holmes Bookstore in Oakland was a favorite haunt and turned up some wonderful sepia maritime prints that were sold on separate sheets from someone's scrapbook. Close examination of one of them shows a "1916" pennant at the masthead of one sailboat with a Corinthian Yacht Club burgee flying alongside, so there is our date.
Another one portrays Italian fishing boats, feluccas, at Fisherman's Wharf c1916. These boats predate the Montereys that appeared a few years later; you can clearly see the family resemblance.
And can anyone identify the Navy cruiser from the scrapbook?
On another occasion, an interrupted grocery shopping excursion in the early '90s found me at a garage sale near my home in Alameda, where I left five dollars lighter in my wallet but gained thousands of small old prints and negatives. Here was a portion of a collection that should have ended up at the Bancroft Library at UC Berkeley, and will, but had somehow been overlooked. I discovered that the photographer was Lewis Clark, a noted mountaineer, electrical engineer at Pacific Telephone, and later President of the Sierra Club.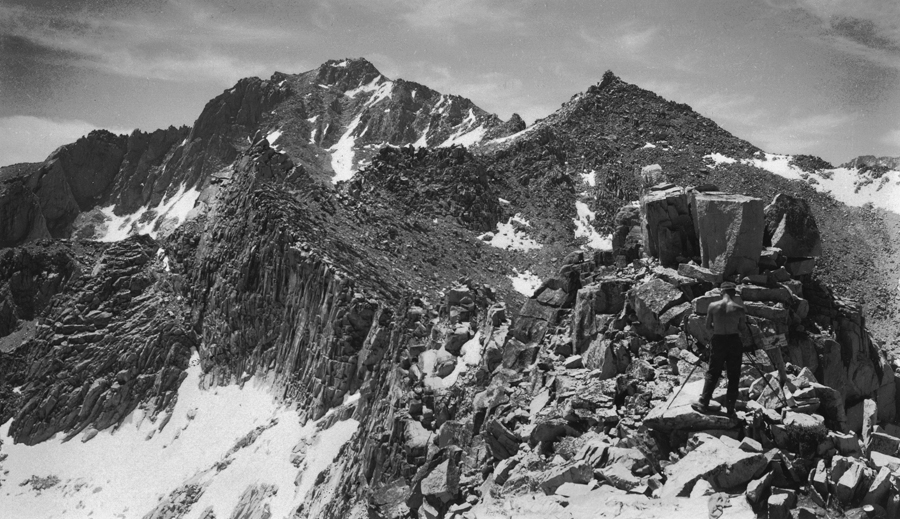 Commuting to the city by ferry offered a regular opportunity for Clark to use his 6x9cm Voigtlander camera; his skill at composition and exposure left a wonderful record of a pace most of us envy today. My favorite commute shot has to be the NWP Ferry Santa Rosa at the Ferry Building with the undecorated Telegraph Hill in the background and Mt Tamalpais in the distance. Blow it up some more and the Delta King river steamer appears.
Ebay too can be an evil influence. Just save a search like "NAS Alameda" and you will eventually turn up something as interesting as the group photo with the first plane to be rebuilt at the Naval Air Station in 1941. Then mention this photo to a local architect/historian like Dick Rutter and he will produce a shot of the last plane to be finished in 1996.
My overall favorite remains the image of the Dipsea Trail hiker looking south to the Golden Gate in 1930. The notes in the margin of the negative revealed the coded date, the location, and also the name of the hiker, S. Estabrook.  Turns out my fishing buddy is an Estabrook so I printed a copy and stuck it in an envelope to Kent. Next evening the phone call comes. "That's my Dad," he says.  An amazing gift for the both of us.
What a great opportunity to exhibit our treasures this project has become. And I don't have to endure any in-person eye-rolling. Thank you California Historical Society, Historypin, and all the sponsors and contributors!
Michael Rettie, Alameda, CA.
—————
View Michael's Channel with all these wonderful photos here.