Over the past year or so the US team has been working with the US National Archives and Records Administration (NARA) on engaging a diverse set of audiences with newly digitized WWI and WWII moving image content from their collections. Moving forward into the centenary of the US entering the war later this year, we are currently choosing to focus primarily on WWI content, and have had lots of fun discovering the rich content the Archives has to offer from the Great War. Importantly, we are digging deep into the data and content for these films and partnering up with educators, museums, and even coders to explore the ways that we can use these films to not only learn more about WWI history, but connect the larger story of the war to local histories and people as well.
What kind of films are we working with? 
NARA has a fascinating range of WWI films, including those focusing on the draft, training activities, battlefilm, supply activities, celebrations, you name it. And these are not limited to the US participation in the war; there are films from Britain, France, Canada, Italy, and Germany as well.
NARA's WWI films on Youtube.
Film clips 
Many of these films range from a few minutes to over an hour, but we want to explore the kinds of data we can parse out at the scene level by breaking these films into clips. Ambitious to say the least as there are hours and hours of film reel, but these deserve a closer to look. Many of these WWI films include wide ranges of locales across the US and Western Front, changing at the scene level, so we are starting to experiment with how we might create film clips for eventual mapping out on Historypin. In coming up with a process for getting raw film into clips and onto Historypin, it has allowed us to really immerse ourselves in WWI history and brainstorm ways in which we can engage our audiences in this process as well. This crucially includes gleaning as accurate location data as possible for these clips, and many of these films do not include exact locations.
Shot lists
However, in our research and discussions with NARA's amazing special media staff, we came across a treasure trove of original production files, or shot-lists for each of the WWI-era films in the 111-H series (the primary historical film series containing the WWI films we're working with). These shot-lists contain rich scene-by-scene information, often including locations, dates, a names of personalities not included with the film descriptions.
We discovered that these shot-lists were being digitized alongside the films, and that for the first time we would be able to easily associate this shot-list data with the films themselves.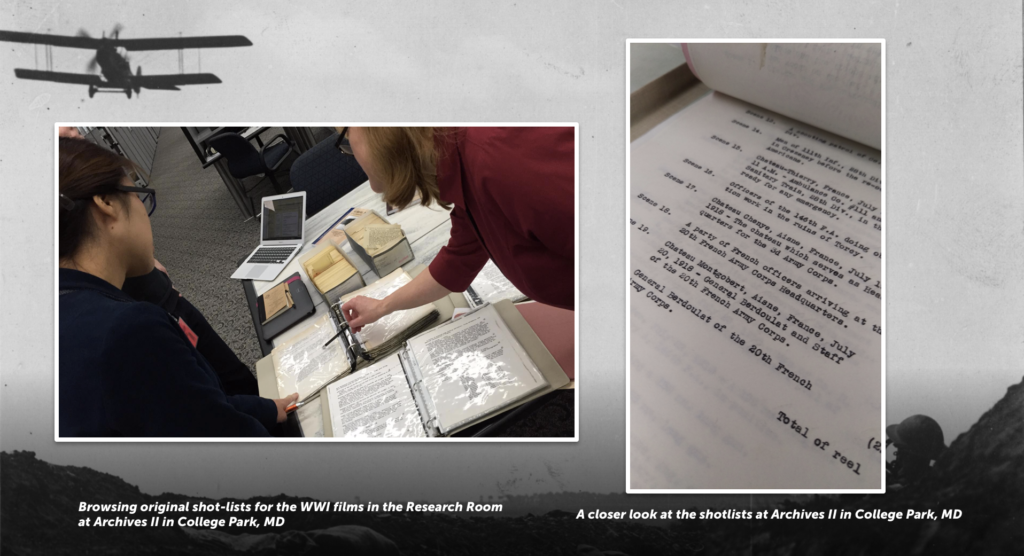 Here is an example of the (very fun) work that we did on one of the films in which the location data was a little clearer, "The Unknown Solider of the World War."
The opening scene from 111-H-1423, Meuse-Argonne Offensive, September 26 to November 11, 1918, 92nd Division. The only information about this scene included with the film is that troops are "moving towards Belleville."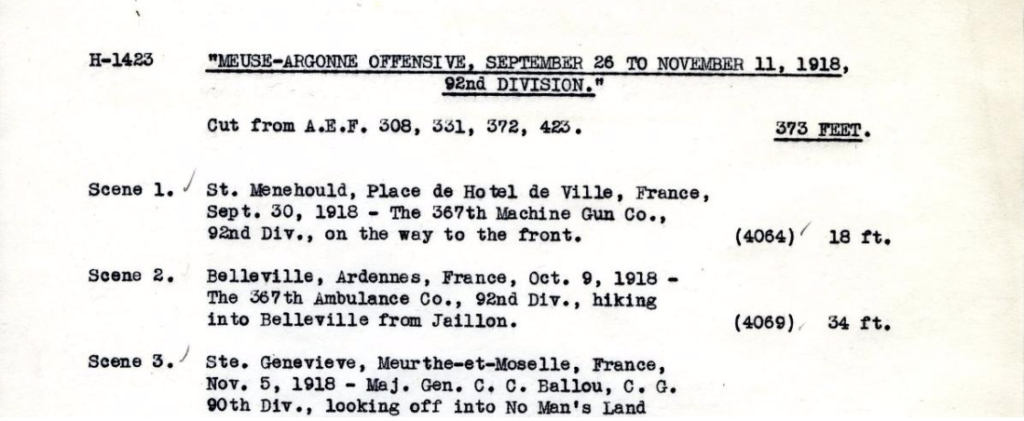 However, the shot-list for the film's first scene on the shot-list clearly puts this at "St. Menehould, Place de Hotel de Ville, France, Sept. 30 1918," so we now have an exact location, as well as an exact date. We also now know that the "367th Machine Gun Co.," part of the 92nd Division, is depicted.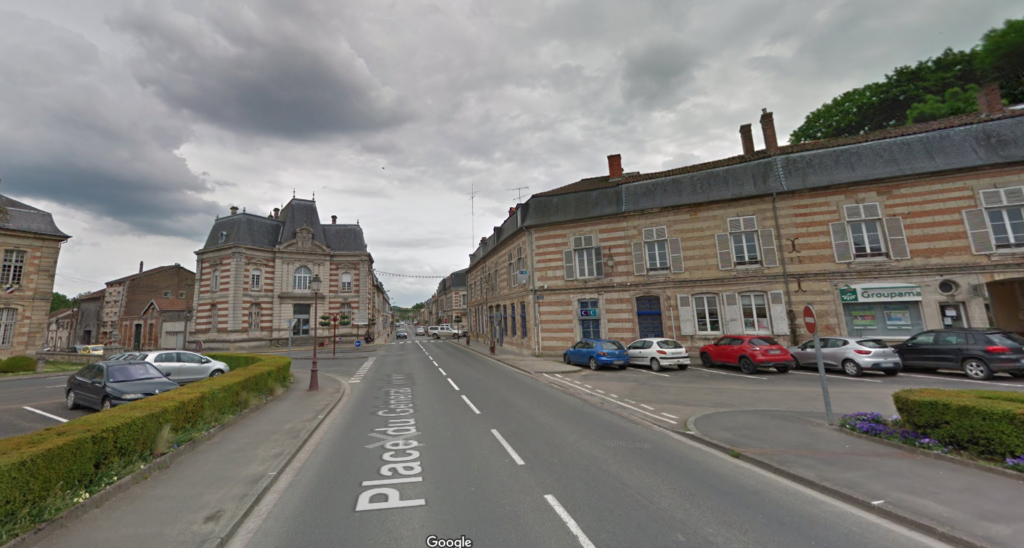 Place de Hotel de Ville, now the Place du Général Leclerc, in St. Menehould, on Google Maps. We can take the lat-long coordinates of this location to map our film clip to the exact location where it was filmed in 1918.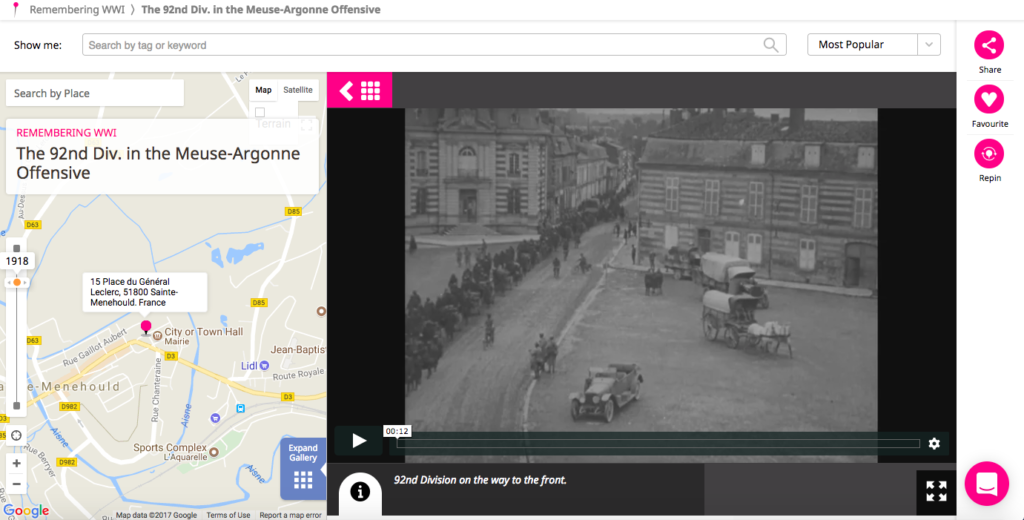 The clip mapped on Historypin.
Remembering WWI
During 2016, we have started to develop Remembering WWI, a tablet app that will provide for our teacher and museum audiences greater access to these enriched film clips (as well as thousands of WWI-era photographs).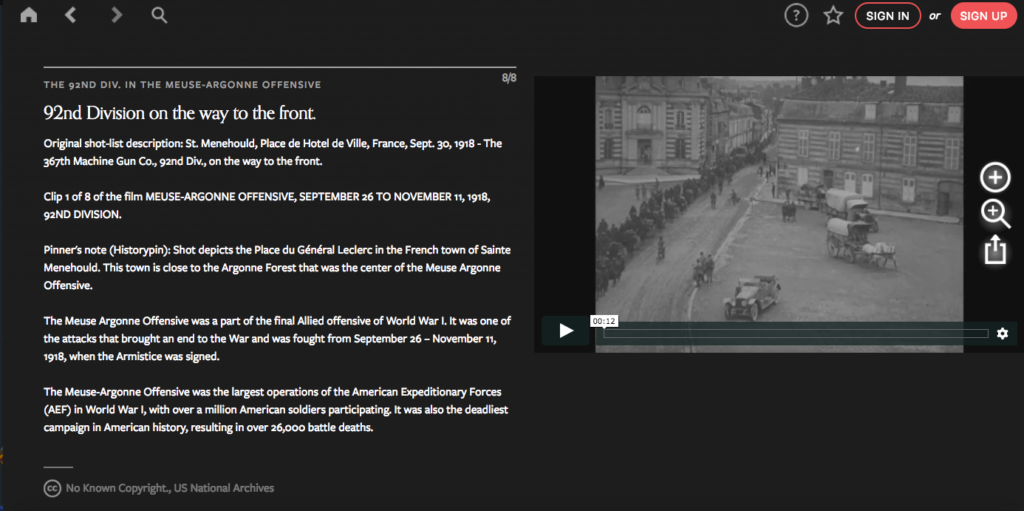 The app utilizes Historypin's API, in that what we add to Historypin will appear in the app as well. This way, teachers and museums have an alternate way to access this content for reuse in the classroom or in their programming.
Our wonderful high school interns have been invaluable to this project, helping to identify, segment, and map these NARA WWI films to Historypin. Along the way, they are learning about new technology, parsing through archival data, and mapping, and more.
Here are the some of painstaking steps our interns take to map these films to Historypin and Remembering WWI:
Pick a 111-H film to segment, based on prominent WWI themes in part recommended by teachers in our user-design sessions for the app.
Create a new project for it in iMovie.
Import the film to the project, and pull out individual clips based on the scene cuts found on the original shot-list for the film. Multiple scenes taken at the same location for example can be combined into the same clip.
Review the resulting segment and edit if necessary.
Export the completed scene to Vimeo.
Once uploaded, grab the url on Vimeo and input into Historypin's bulk upload csv, along with any lat-long, date, descriptions, tags, etc.
Repeat with the rest of the film reel, until all clips have been exported to Vimeo and all metadata added to the bulk upload csv.
Review csv and make edits as necessary.
Bulk upload collection of film clips into Historypin's Remembering WWI collection.
---
Download the Remembering WWI app here.
View the segmented film clips (and photographs) on Historypin here.
This project is made possible in part by an anonymous donor and the National Archives Foundation. ​