For those of you who have not seen the short film "A Trip Down Market Street," we'd like to share this fascinating bit of time travel into San Francisco's past. For those of you have, well, this insight into every day life in a pre-1906 quake city never really gets old.
The film depicts Market Street in San Francisco, with the Miles Brothers' camera crew carrying the scene from their studio at 1139 Market Street (between 8th and 9th St.) all the way to the Ferry Building on the San Francisco Bay. Men and ladies in hats, horses and carts, streetcars, and automobiles all share a busy thoroughfare where traffic laws are a thing of the future. Rick Prelinger, film archivist and historian, owns the sharpest copies of the film, and because of this we are able to see 1906 with stunning clarity.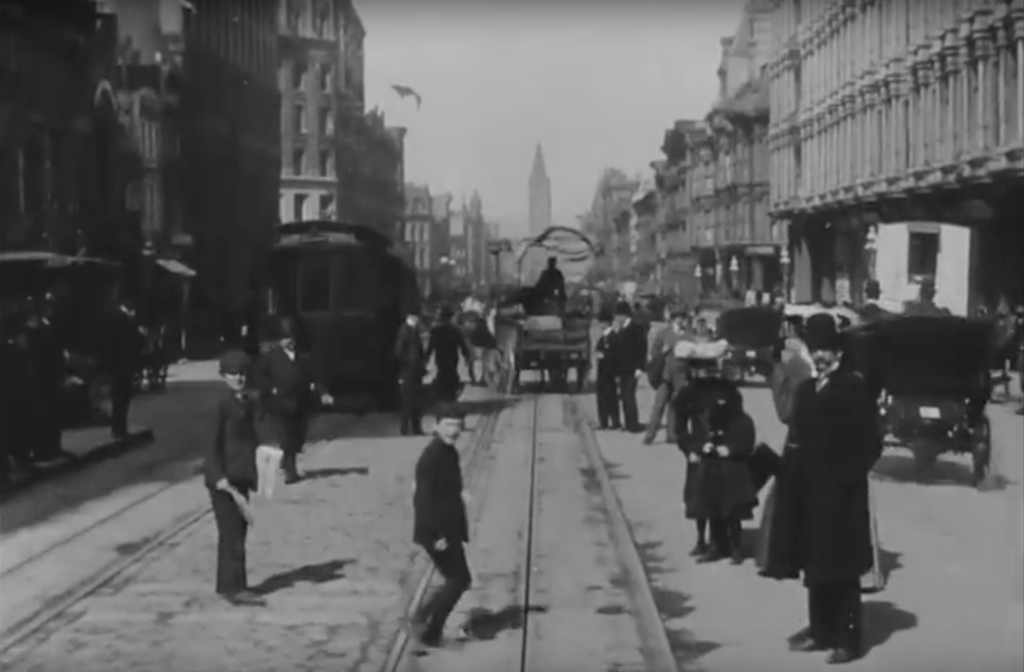 A still-frame from the film demonstrating the hustle and bustle of people, cars, and carts sharing the street.
But the film was not always thought to depict 1906. Over the past few years this film has gained much media attention, thanks in part to some detective work from silent film historian David Kiehn. The Library of Congress originally dated the film to 1905, but Kiehn thought otherwise and did some extensive research into the matter. Inspecting every detail, he used the presence of puddles in the film as a bid to look up weather information around 1905, and used the position of the sun among other things to eventually date the film to sometime around late 1905 to early 1906. More research using microfilms at the San Francisco Public Library, license plate research, and much more, eventually led to him confirming the film date as on or around April 12, days before the big quake.
More compelling is that the devastation on April 18, 1906 would have incinerated this film as well, had the Miles Brothers not shipped the footage off to New York only a day earlier. The film now has even more significance in how it captures a calm before the storm, a scene of every day life before the city would change forever.
We've pinned this film to our Year of the Bay project and overlaid it onto Street View, so you can compare then and now. We are excited to add this fascinating bit of city and film history to our Year of the Bay archive on Historypin. View the film on Historypin and share your thoughts on this piece of time travel.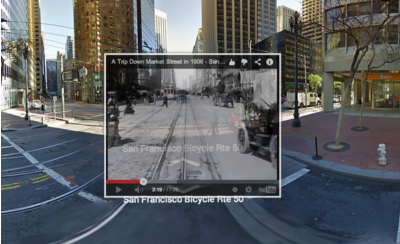 "A Trip Down Market Street" overlaid onto Google Street View on Historypin.