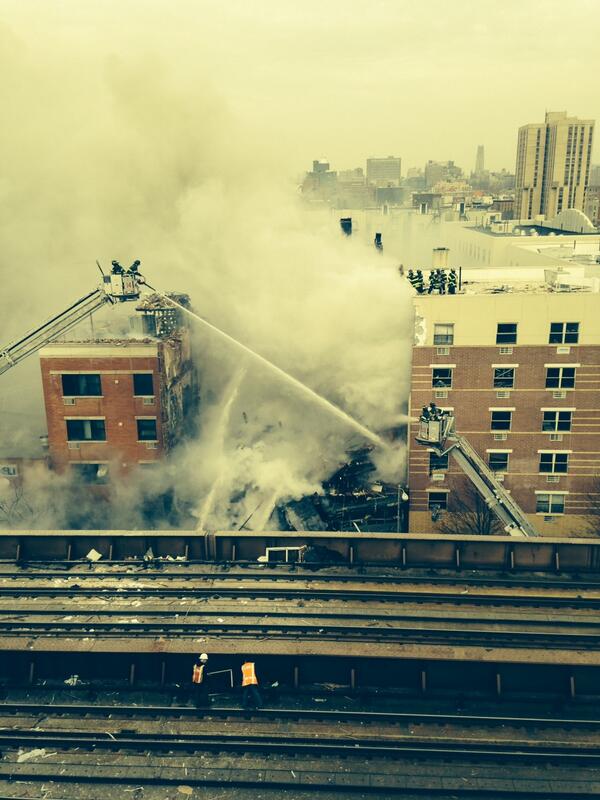 Around 9:30 am on March 12, 2014, two buildings once standing by 116th Street and Park Avenue in New York City's East Harlem neighborhood were gone, leveled by an explosion from an apparent gas leak. Residents of East Harlem, also called Spanish Harlem and El Barrio, are still mourning the blast that killed 8 and injured over 50, and several community efforts continue to help rebuild the local neighborhood and help those affected.
In the wake of this tragedy comes this insightful guest blog from José Vadi, a writer and performer based in Oakland, CA and founder of the youth storytelling Off/Page Project. Before the collapse, José took the opportunity to capture his father on film revisiting his old East Harlem apartment—one of the buildings lost to the gas explosion. José kindly shared this family memory with us and pinned the video to his Channel, giving his story an even greater sense of place and the change the neighborhood has undergone. Here is what José had to say about sharing his father's memories on Historypin:
I think it's important to visualize the before and after of our city's architectural landscape, especially after such tragic events as those that happened this month in East Harlem. It also helps recognize Uptown's position in the context of Manhattan and New York at large, and how that sense of feeling removed and alone permeates my father's memory of a building so filled with life, its underbelly, and the people who comprise its day to day.
Below is José's story behind his bid to revisit the past with his father, an insightful piece called What Happens After a Collapse (also posted on Colorlines)?:
On March 12, 2014, my father forwarded a New York Times article with the headline "At Least 2 Killed in East Harlem Building Collapse." A brief note from my Dad followed:
Dear Friends, This is the building where I grew up until I was 22 years old (1646 Park Avenue, apartment 7). If those walls could speak! They would tell a tale of immense suffering with small periods of joy.
Growing up, my sister and I heard stories about East Harlem every day from our dad. Tales of unscrupulous landlords. Our abusive grandfather. Stories of newly arrived Puerto Rican squatters filling his apartment to the brim, toiling in the family-owned bodega and the years it stole from my grandmother. My father would describe coughing up soot in the morning, filling shoe soles with cardboard, fighting Italian gangs on the way to school, and singing du-wop in his school hallways. For these reasons, I always associated New York as a place to overcome and leave, instead of a place to live and settle.
I read the article on my phone riding on BART between Oakland and San Francisco and was shocked to hear about the explosion and subsequent collapse of 1644 and 1646 Park Avenue, two neighboring tenements off 116th Street that shared an eastern view with the elevated Metro North line. To date, eight people have died despite rescue efforts to find trapped and missing residents. But in the context of what I know about my father's life, this was the last of many remaining threads connecting him to the neighborhood he calls home, slowly eroding with every passing year.
I called my dad that night from the kitchen table in my studio apartment. As my elbows rested on the faux wood grain, I remembered my father earned his undergraduate diploma from CCNY – the "poor man's Harvard" —using an ironing board for a desk until the age of 22. I asked him how he felt about hearing the news. He breathed a heavy sigh. "First, the neighborhood went away – La Marketa's no longer there, 125th Street's a mall, the people are all gone. Now, my building's collapsed. I really don't have a home anymore. I have no connection to my city anymore, my neighborhood. I'm totally uprooted."
In February 2010, my father, who lives in Los Angeles, went to New York for the first time since the early '80s to participate in a lifetime achievement ceremony for East Harlem community activist Rev. Norman Eddy. Rev. Eddy hired my father at the age of 18 to be the director of housing relocation for the Metro North Citizens' Committee. The program worked heavily along 100th Street, temporarily relocating tenants so that their homes could be refurbished while maintaining their original exteriors. This was Eddy's attempt to prevent the community plight and disruption currently associated with gentrification and rising rents. His plan lead to cooperative ownership of buildings among tenants, to them having a stake of ownership within their East Harlem community.
Before the collapse, I wanted to document the stories I heard growing up as a kid, no matter how painful for my dad or myself. The goal was to visit 1646 Park Avenue, Apartment 7. I borrowed a FlipCam from my friend, and asked another to film my Dad and me together in his old neighborhood, for the first time. It snowed that day. Still, my father's pace quickened as he walked across his former neighborhood pointing out where along La Marketa previously existed; his technique for selling shopping bags to patrons for five cents; the high school formerly named after Benjamin Franklin where my father trained for the Millrose Games; where he ran laps inside the hallways during the winter. He showed me the top of the subway stairs where he and his brother would fist fight with the other shoe shine boys, desperate to catch a customer. My pops noted the racial divides by block between Puerto Ricans and Italians along 3rd Avenue and the sewer caps on 117th Street that served as a stickball diamond for their ragtag neighborhood gang. I knew if I ever had the opportunity to walk alongside my dad down the streets where he grew up, I'd go along. I wanted to feel as close as possible to the trajectory that somehow lead to my own existence, starting at its root: 116 and Park.
The fragility of human life was apparent for quite tragic reasons after the collapse, yet I was grateful to have taken the opportunity to have filmed my father in a place he once called home. I wonder now if any of those whose lives were taken last week were living in the building while we were filming; if their stories could have been told to preserve, to share what went untold in homes whose exteriors never truly represent what's held inside.
When a building falls, do those stories ever die?
I wonder whether Eddy's plans of cooperative, resident-owned housing would fly in today's New York economy. I wonder how you preserve a bruise while healing from the original blow? And what of those few moments of joy my father described, how do they shine through a building that to my father's recollection is a recurring travel through a thorn-lined Babel? And of whatever walls are built in the wake of these building's collapse, I wonder if future generations will know their true history and who laid the first foundation of East Harlem.